Stay up-to-date on FEATSAZ Educational Mixers, Event regulations, and more. Subscribe to our e-newsletter.
March 2023
Topic:  Essential Marketing Components for Your Event
Date: Wednesday, March 22, 2023
Time: 5:30 pm – 7 pm
Location:  Cirrus Visual
                       601 N Stone Ave, Tucson AZ 85705
Admission:  FREE for Festival & Events Members
                          $10 for nonmembers
Pack the House! Compelling design and impressive printed materials are essential components of your event marketing mix!
Up your game with the power of design, print and promotional materials available to you locally at Cirrus Visual. The possibilities of print are endless! Having the proper materials in your marketing mix can and make a huge impact on the success of your event.
Get a behind-the-scenes tour of Cirrus' unique mix of in-house capabilities and see first-hand how ideas come to life through print. We'll be serving up drinks and appetizers. Plus, you'll walk away with some really cool Cirrus swag!
April 2023
Topic:  Social Mixer at Mariscos Chihuahua on Grande
Date: Wednesday, April 26, 2023
Time: 5:30 pm -7:00 pm
Location: 1009 N Grande Ave, Tucson AZ 85745
Admission: FREE for Festival & Events Members
                         $10 for nonmembers
This month we're meeting up in historic Barrio Hollywood. Join us on the patio of Mariscos Chihuahua for appetizers and networking.
FEATSAZ social mixers are the premier networking opportunities for event industry professionals.
May 2023
Festival & Events Workshop 2023
Dates: Friday, May 19, 2023 & Saturday, May 20, 2023
Risk Management and Marketing/Media Relations are critical for successful events & festivals. Attend this 2-day workshop led by IFEA professionals.
Friday, May 19th – Operations/Risks Management covers the key elements of site plan; insurance and risk management procedures; crowd control, security, and contingency plans; and the leadership role of operations personnel.
Saturday, May 20th – Marketing and Media Relations covers a working knowledge of marketing's role in a festival or event; a basic outline for structure and organization of marketing and media relations planning; and working knowledge of media relations and tips and techniques to conduct full media relations' efforts.
Select individual workshops or save by registering for the entire two days. 
Register before May 1st and save $30 per registration using promo code EARLY.
For pricing and registration, visit the registration site.
FEATSAZ has many relevant panels in the planning stages. Stay tuned for updates on Educational mixers focused on:
*Social Media for your Event
*Growing Your Festival
*Recruiting Volunteers and Board Members
*AZ Special Event Liquor Laws
*Gaming at your Events: What You Need to Know
*Event Safety 101
*Security for Your Event
If you're interested in being a Mixer host or sponsor, reach out to [email protected] Have expertise the Festival & Events community needs to know? Send us your information at [email protected]
~~~~~~~~~~~~~~~~~~~~~~~~~~~~~~~~~~~~~~~~~~~~
FEATSAZ News: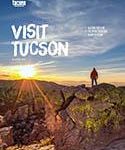 The Metro Tucson Tourism Master Plan showcases how festivals and events collectively impact tourism in Tucson and Southern Arizona.  Take a moment to download the plan at the link above and review the Culture section, beginning on page 48, which includes Events & Festivals.
We are way proud of Tucson's prestigious designation as a 2017 WORLD FESTIVALS AND EVENT CITY,  bestowed by the International Festivals and Events Association (IFEA)!
We are grateful to IFEA for this significant recognition for Tucson and also for choosing Tucson for the three years (2017, 2016, 2015) as the location of the international IFEA Annual Conference and Retreat.
FEATSAZ also thanks Visit Tucson, the City of Tucson, Pima County, those who contributed to the development of the successful entry to IFEA, and to the many Tucson area festival industry professionals, suppliers, vendors, and volunteers for creating the diverse and wonderful festivals and special events that make Tucson special.
Here's Tucson's video submission:

Here's the accompanying written entry (pdf):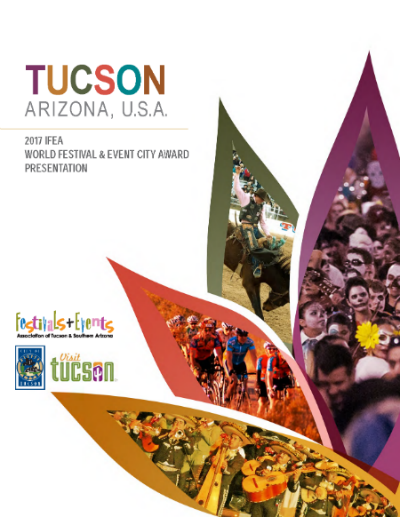 ---
Benefits of FEATSAZ Membership
Networking opportunities with others in the festivals and events industry
Promotional opportunities for products and services at mixers
Industry education, including peer-to-peer Q & A, presented during monthly mixers
Advocacy and event industry updates
Discounted rates for seminars, conferences, and education mixers
Priority social media promotion on FEATSAZ social media channels
Access to the Facebook FEATSAZ 'Members Only' group
Monthly Membership newsletter
Listing on membership directory with hyperlink 
Annual opportunity to vote for FEATSAZ Board of Directors
Opportunities to volunteer on committees within FEATSAZ
Use of Membership logo on personal email signature
Membership Dues

FEATSAZ is a membership association.  Please visit our Membership page for more information: Become a FEATSAZ Member today!
……………………………………………………………..