Topic: Trends in Events: Decor, Lighting, and Sound
Date: Wednesday, June 22, 2022
Time: 5:30 pm – 7 pm
CATALYST Arts & Maker Space by SAACA (at Tucson Mall)
Register on Eventbrite!
Description:
How do you make your event top-notch? Sound and lighting design and decor are key!
Join us for the second session of our 2022 Summer Series! At this session we'll explore the essentials of event sound, lighting and design with a dynamic panel, including Arizona Party Rental and other experts—from choosing the right AV equipment, to stage and lighting design to decor, which goes beyond the basics of draping, tents and furniture rentals.
Learn tips, trends and basics to ensure that your event runs smoothly, while taking it to the next level.
After the presentation we'll open the floor for Q&A with the panelists, so come with your questions and gain essential knowledge in a supportive atmosphere.
Topic: Events in Public Parks & Spaces
Date: Wednesday, July 27, 2022
Time: 5:30 pm – 7 pm
Location: CATALYST Arts & Maker Space by SAACA (at Tucson Mall) 
Registration opening soon!
Description: Interested in holding an event in one of our amazing public parks? This Mixer is for you! Representatives from Tucson Parks & Recreation, Sahuarita Parks & Recreation, and Marana Parks & Recreation will be on hand to explain the process, showcase their facilities, and answer your questions.
Topic: Working with the Media
Date: Wednesday, August 24, 2022
Time: 5:30 pm – 7 pm
Location: El Conquistador Tucson
Registration opening soon!
FEATSAZ has many relevant panels in the planning stages. Stay tuned for updates on Educational mixers focused on:
*Social Media for your Event
*Growing Your Festival
*Recruiting Volunteers and Board Members
*AZ Special Event Liquor Laws
*Gaming at your Events: What You Need to Know
*Event Safety 101
*Security for Your Event
If you're interested in being a Mixer host or sponsor, reach out to mixers@tucsonfestivals.org. Have expertise the Festival & Events community needs to know? Send us your information at mixers@tucsonfestivals.org.
~~~~~~~~~~~~~~~~~~~~~~~~~~~~~~~~~~~~~~~~~~~~
FEATSAZ News: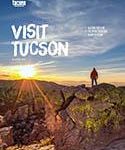 The Metro Tucson Tourism Master Plan  showcases how festivals and events collectively impact tourism in Tucson and Southern Arizona.  Take a moment to download the plan at the link above and review the Culture section, beginning on page 48, which includes Events & Festivals.
We are way proud of Tucson's prestigious designation as a 2017 WORLD FESTIVALS AND EVENT CITY,  bestowed by the International Festivals and Events Association (IFEA)!
We are grateful to IFEA for this significant recognition for Tucson and also for choosing Tucson for the three years (2017, 2016, 2015) as the location of the international IFEA Annual Conference and Retreat.
FEATSAZ also thanks Visit Tucson, the City of Tucson, Pima County, those who contributed to the development of the successful entry to IFEA, and to the many Tucson area festival industry professionals, suppliers, vendors, and volunteers for creating the diverse and wonderful festivals and special events that make Tucson special.
Here's Tucson's video submission:

Here's the accompanying written entry (pdf):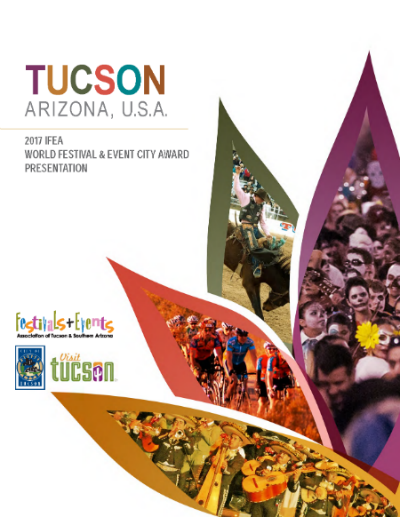 ---
Benefits of FEATSAZ Membership
FEATsAZ & IFEA 2017 Annual Conference discounted registration fee
Promotional Opportunities for Products and Services
Access to the Membership Directory
Member Rates to Seminars, Conferences, and Socials
Advocacy, Legislative Monitoring
Networking Opportunities targeted to this industry
Peer to Peer Q & A
Social Media Promotion
Membership Logo to add to your email signature
Membership Dues

FEATSAZ is a membership association.  Please visit our Membership page for more information: Become a FEATSAZ Member today!
……………………………………………………………..
Stay up-to-date on FEATSAZ Educational Mixers, Event regulations, and more. Subscribe to our e-newsletter.